Keeping a design eye on 2020
You may not be ready for election-related TV ads, political "spam" all over your Facebook feed or the amount of political literature that's about to hit your mailbox – but I am!
As the Creative Director for Vanguard Public Affairs, I revel in all things design, especially when it comes to political races.
With less than 21 months remaining, the 2020 presidential election race is ramping up. A staggering 150 individuals have filled with the FEC to run in the Democratic primary or have formed an exploratory committee. Additionally, 65 no-name Republicans have filed, but no serious primary opponents for Trump have officially announced.
Before we get into the nitty-gritty of the prominent Dems' logos, let's look back on past presidential branding.
A Trip Down Memory Lane
It feels like it was just yesterday that I was watching the 2016 presidential debates (ugh), arguing with my coworkers (ugh) on why Trump (ugh) – and his boring logo (ugh) – wouldn't win. Boy, was I wrong (ughhh).
Trump's campaign started out strong, spent little money on name recognition (why would they?), and came out with a simple wordmark laid in the bolded version of the Akzidenz-Grotesk typeface and kerned out every so slightly to get that classy, high-end feel.
During the 2016 election cycle we were also exposed to a slew of other logos from both parties. From Jeb!!!!!!!!! to Hillary Clinton's forward-thinking H, graphic designers had a chance to flex their political prowess and really make a mark on the campaigns.
We saw a similar approach to design in 2008 and again in 2012, when the now iconic Obama logo was created by Sol Sender. Prior to 2008, presidential logo designs almost always featured three things:
An iteration of the American flag

The year in which the race was being held

A star – because we as Americans love stars, right? And we love candidates that love stars too, right?!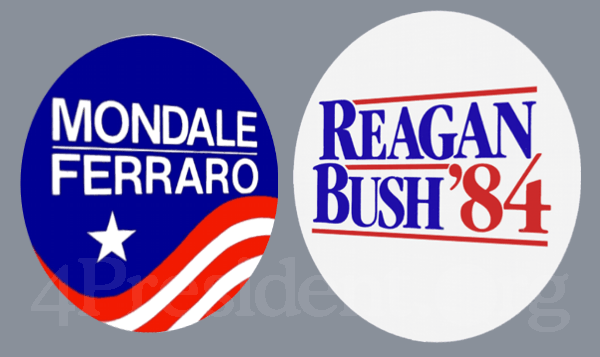 Red, White and Blue… and Pink, Purple and Orange
Buttigieg. Castro. Delaney. Gabbard. Gillibrand. Harris. Ojeda. Warren. Yang. From U.S. Senators and Representatives to mayors – and (gasp!) an entrepreneur, these Democrats are officially running in 2020.
Democratic candidates are hitting the ground running – from online videos to online stores that are selling everything from t-shirts to stickers to hats featuring their brand spanking new logo.
As we see presidential logos for 2020 roll out, one thing is abundantly clear – color is playing a bigger role than ever before.
U.S. Sen. Kamala Harris' 2020 logo is colorful, complex and a nod to history. The warm tones – the purple, the salmon, the soft yellow are hues straight out of the '70s. Sen. Harris' announcement comes nearly 47 years after then-U.S. Rep. Shirley Chisholm's historic bid for the nation's highest office. In 1972, Chisholm became the first black candidate for a major party's nomination and the first woman to run for the Democratic Party's presidential nomination.
Harris' logo has no stars and stripes. No abstract waves portraying the flag. Not even a 2020 tucked in anywhere.
Will this departure from the norm be too much? Too radical? Or is it just what America is looking for as 2020 approaches?
U.S. Sen. Elizabeth Warren is stepping up to the plate this year. Boasting a condensed geometric sans serif typeface (is that Brandon Grotesque?), Warren's logo is one of few that is using red, white and blue. In addition, "Liberty Green", is part of the branding mix and is a nice, contemporary pop of color.
Her logo is simple and to the point – no stars, no waves, no abstract icons. The line underneath her name is a nice touch, too. My only gripe with this logo is the "www." before the web address. When the internet boomed in the '90s, you had to have the "dubya dubya dubya" before typing in a website, but thanks to technology advances, we don't need to use it anymore.
Speaking of pops of color, combat veteran and U.S. Rep. Tulsi Gabbard's 2020 logo is trying hard to convey a brighter future. Her latest campaign video states, "...This is why we fight; for the future that we hope will be so much brighter." No matter what side of the aisle you may be on, the notion of a "brighter" future just might be the thing we're all looking for – and I'm sure we'll be hearing this line from her campaign more in the future. The deep blue pairs nicely with the rising sunburst that is nested within the letters. As a designer, I'm drawn to the slight curves on the ends of the "T" and "I" that make this logo feel even warmer and organic.
Unlike Harris' and Warren's logos, Gabbard chose to emphasize just her first name, and not her last. This isn't typically recommended when designing campaign logos. Name recognition is key. When a voter goes to cast their vote, you want to be sure they know who you are, and that almost always means highlighting your last name to alleviate confusion among candidates. In addition to Gabbard, Buttigieg and Castro are also putting all of their eggs in the first name basket.
The logo Mayor Pete Buttigieg (pronounced BOOT-edge-edge), a 37-year-old openly gay and Afghanistan veteran representing South Bend, Ind. released a few weeks ago is simple, clean and features a star – the only logo we've seen so far to do so. If I was a designer on Buttigieg's team, I'd definitely make the same choice to focus heavily on "Pete" and not "Buttigieg." His last name is quite unique which could either help or hurt him.
The caboose of the first-name train is Julián Castro, former secretary of Housing and Urban Development and former mayor of San Antonio. Castro's logo is bold and striking. I'm drawn to the break in line surrounding his name. This design element has been popular in recent years and I think it works for him. Emphasizing the accent on the "A" in his name is a nice touch, too. I'm not sold on the tagline, "One nation. One destiny," because it just doesn't say anything to me. I'd rather see his last name tucked under there, I think. Not only is Castro's logo strong, the entire design of his site is, too. I'm excited to see more materials come out of this campaign.
John. K Delaney is a U.S. representative hailing from New Jersey, and as soon as I saw his logo, I thought it felt like a mix between Obama's signature O and Delta Airlines' logo. Delaney's team uses almost all three design elements that were quite popular prior to 2008 – he's got the red, the white, the blue, the nod to the American flag and, of course, the year in which he's running. I can't get on board with the typeface – Avant Garde Bold – because it's just boring. His logo isn't out of the box and is relatively safe – which might be saying something about the candidate.
Right now, Andrew Yang is the only democratic entrepreneur stepping up to challenge President Trump. Yang announced his bid to run on Nov. 6, 2017, and his main platform point is to implement what he calls "Universal Basic Income," which would allow every American adult over the age of 18 to collect $1,000 a month from the government. Not only is the policy a long shot, but being able to read his logo at first glance is too. Like Delaney, Yang's logo has red, white and blue (although, the hues are a bit childlike), the nod to the American flag and the election year. Readability is everything when it comes to candidate logos and Yang's misses the mark.
Speaking of failed intentions, here we have former West Virginia state Sen. Richard Ojeda's logo. It's terrible. The legibility is poor and the "O" in "Ojeda" is completely lost. He's one of two candidates to have an online store up and running, and the designs on the merchandise he's selling is awful. Since the 2016 election, I think we've had enough "knuckling up." (Editor's note: Ojeda dropped out of the race on Friday, January 25.)
Last but not least is U.S. Sen. Kirsten Gillibrand's logo. Like Warren and Buttigieg, Gillibrand's team of designers went for a clean, condensed typeface. Alternate Gothic No. 2 is a versatile font and a classic American staple in a designer's toolkit. Gillibrand, like Castro, utilizes the design element of a broken line, and it works well in this instance. Nothing about this logo is too boxy or too boring – it's a nice combination of simple elements. Missing are the reds, whites and blues, the stars and the stripes. Gillibrand's logo features pink, a color we've all come to associate with the 'pink wave' and Women's March. As one of four women to announce so far, Gillibrand's campaign is the only to utilize the pink. Will it help set her apart from the rest of the competition?
I'm sure there will be more candidates announcing their bid to run in the next 21 months, but I've seen enough from the Democrats. Sixty five Republicans may have filed, but none have hit the mainstream media yet. Where are the challengers?